Tioga Rhino 1984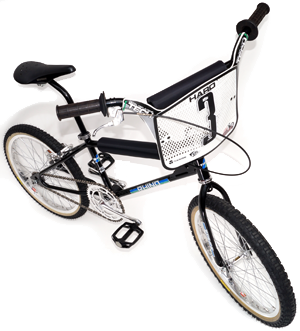 I found this Tioga Rhino (Tange Hot-Heart) in the basement of an old BMX shop in Uppsala 2013 that went out of business. It was chrome with red parts when I got it. I decided to go for a black theme instead, and I call it the "black rhino" because the animal rhino have got two different species; the "black rhino" and the "white rhino" (actually it's "wide rhino" because of the wide nose). It's been powder coated in black by Jesper R. Thanks mate!
I have got the black Kashimax MX seat from the swedish BMX legend Uffe Meijer.
Many of the original red anodized parts have been treated with chemicals to remove the red anodizing, then polished instead. Repop decals for headset, handlebar, hubs, rims and seatpost is bought from Retrospect in England.
I bought the reproduction Tioga frame & fork decals from Frog in France, but I will never order anything from him in the future. It took him 2,5 months to send the decals. Beware of him! 🙁
Parts marked with *** is original from when I bought the bike.


| | |
| --- | --- |
| FRAME | 1984 Tange HotHeart, black (refurbished) *** |
| FORK | Tange, black (refurbished) *** |
| STEM | Tuf Neck, polished (refurbished, new bolts) *** |
| HANDLEBAR | Tioga, straight crossbar, black (refurbished) *** |
| HEADSET | Tange 125, polished (refurbished) *** |
| HEAD LOCK | Tioga Task Force, black (NOS) |
| GRIPS | OGK Mach, black (NOS) |
| CRANKS | Takagi Ultra Dyno 170mm, polished (refurbished) *** |
| BOTTOM BRACKET | Tioga sealed bearings (used) *** |
| CHAINRING | Takagi 44T, polished (refurbished) *** |
| CHAINRING BOLTS | Takagi, chrome (used) *** |
| PEDALS | Shimano DX 9/16", black (refurbished, new dust caps) *** |
| CHAIN | Izumi 1/8", black/nickel (new) |
| SEAT | Kashimax MX, black (NOS) |
| SEAT POST | Tioga layback, black (refurbished) *** |
| SEAT POST CLAMP | Tange SC-2, black (NOS) |
| BRAKE | Dia Compe MX900, polished (refurbished) |
| BRAKE PADS | Dia Compe, gum (NOS) |
| BRAKE LEVER | Shimano SX, black/chrome (NOS) |
| BRAKE CABLE | Shimano DX, black (NOS) |
| RIMS | Araya 7X, 36H, polished (refurbished) |
| FRONT HUB | Suzue sealed low flange, 36H, polished (refurbished) *** |
| REAR HUB | Suzue sealed low flange, 36H, polished (NOS) |
| SPOKES | Asahi 194mm, chrome (used) |
| NIPPLES | Asahi brass 14g long, chrome (used) |
| FREEWHEEL | SunTour 17T, black (NOS) |
| FRONT TIRE | Tioga Comp III reissue, black skinwall, 2.125" (new) |
| REAR TIRE | Tioga Comp III reissue, black skinwall, 1.75" (new) |
| DECALS | Tioga Rhino repop |
| PADS | Flite, black (new) |
| NUMBER PLATE | Haro Tech, white/black/silver (used) |