MT-Racing Trickfox. 1985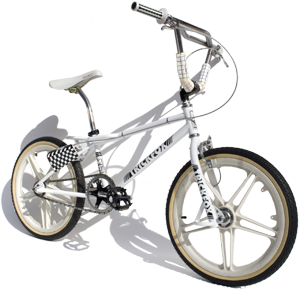 My first "real" freestyle BMX bike was bought from Stumpen Johansson at Cykelverkstán in Älvsjö in 1985. It was a brand new white MT-Racing Trickfox. I didn't like the way it rode, so it was placed in the basement for a while until I sold it to a friend in Storvreten.
25 years later, I found a beaten-up Trickfox frame and fork at the US Ebay, and then I started to collect all the correct parts for the bike. The most difficult part to find was the rare handlebar, but finally I found it. The correct grips and pedals was also very hard to find.
The frame/fork have been powdercoated by "Barspin-Danne". The new decals was made by me.
I couldn't find the correct set of mags with the hollow spokes, so I bought a NOS (new old stock) set of wheels with solid spokes and the holes was milled out instead. 😛
The hinged seat post clamp and the Dyno brake guard are my old parts (from my old Trickfox). The seat post, cranks, headset, brake cables and tires were bought at a bike store in Solna.
You can see pictures of my old Trickfox from 1985 in the pictures below.
Special thanks to Andy for letting me borrow his plotter to cut the decals and to Barspin-Danne for the powdercoating!


| | |
| --- | --- |
| FRAME | 1985 MT-Racing Trickfox. White. |
| FORK | MT-Racing Trickfox. 1¨ threaded. White. |
| STEM | Redline Forklifter COPY. Black. |
| HANDLEBAR | MT-Racing Trickfox. Chrome. |
| HEADSET | YST. 1¨ threaded. Chrome. (NOS) |
| GRIPS | Meteor Lite. Black/white. (NOS) |
| CRANKS | 1-piece 175mm. Chrome. (NOS) |
| CHAINRING | Sugino. 40T. Silver. |
| SPIDER | SR. Black. |
| CHAINRING BOLTS | Chrome. (NOS) |
| PEDALS | VP Beartrap. 1/2¨. Black. (NOS) |
| CHAIN | 1/8¨. Black/nickel. |
| SEAT | Dominator. White. (NEW) |
| SEAT POST | MT-Racing layback fluted 22.8mm. Chrome. (NOS) |
| SEAT POST CLAMP | MX hinged copy. Black. |
| BRAKES | Lee Chi MX1000. Polished. |
| BRAKE LEVERS | Dia-Compe MX-4. Polished. |
| BRAKE CABLES | Translucent silver. (NOS) |
| BRAKE GUARD | Dyno. Black/white. |
| WHEELS | RedStone mags with SunTour 16T coaster brake. White. (NOS) |
| TIRES | Nokian gumwall. 1.75¨ front and rear. Black. (NEW) |
| DECALS | Homemade. |
| PADS | California Lite – Mike Buff. (NOS) |