Haro Freestyler 1'st gen. 1983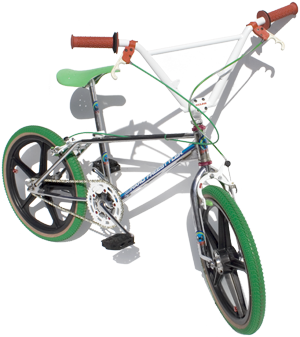 I used to have an Haro Freestyler first generation in the mid 80´s. It was owned by one of my riding buddies in Tullinge before me. The frame was the first production BMX freestyle frame ever made. It was designed by Bob Haro and made by Torker. It's the holy grail for many of the serious BMX old school collectors from all over the world.
I found this frame at the German Ebay. It was sold as an Haro, but I'm not 100% sure if it's a genuine Haro Freestyler made by Torker, or if it's a copy, made exactly like the original.
I have tried to build it up like the one I had in the 80´s, with similar parts, but with another color scheme. The green GT seat is mine from back in the days. I have got the seat post clamp and the chain ring from Patrik "Döskallen" and the headset from T8. The frame/fork decals is purchased from Vert-Ego in England. All the white parts have been powdercoated by Barspin-Danne. The tires is a reproduction of the old Snakebelly's that Bob Haro used to ride with.
My favourite part of the bike is the NOS (new old stock) Haro Handles brake levers in plastic. Very fragile and hard to find, in perfect condition like this. 😀


| | |
| --- | --- |
| FRAME | 1983 Haro Freestyler 1´st generation. Chrome. |
| FORK | Haro Freestyler 1´st generation. 1¨ threaded. Chrome. |
| STEM | Redline Forklifter COPY with Redline decal. White. |
| HANDLEBAR | Redline Forklifter race-version. White. |
| HEADSET | Tange MX-125 alloy. 1¨ threaded. Red anodized. (NOS) |
| HEAD LOCK | Tioga head lock. 1¨ threaded. Silver. (NOS) |
| GRIPS | A'me Rounds, Red with black donuts. (NEW) |
| CRANKS | Tioga Task-Force 1-piece 175mm. Chrome. |
| BOTTOM BRACKET BOOT | Odi Mushroom. White. (NOS) |
| CHAINRING | Sugino. 44T. White. |
| SPIDER | Tioga Task-force. Black/silver. (NOS) |
| CHAINRING BOLTS | Alloy. Red anodized. (NEW) |
| PEDALS | MKS Grafight. 1/2¨. Black. |
| CHAIN | Izumi 1/8¨. White/nickel. (NOS) |
| SEAT | Ariake Shotgun 2 "GT BMX". Green. |
| SEAT POST | Tange straight fluted 22.2mm. Haro decal. Chrome. |
| SEAT POST CLAMP | SR Japan. White. |
| BRAKES | Lee Chi MX1000 with Weinmann semi automatic adjusters and Dia-Compe decals. White. |
| BRAKE PADS | Kool-stop "Vans". Green. (NOS) |
| BRAKE LEVERS | Haro Handles. Red/white. (NOS) |
| BRAKE CABLES | Rear; Dia-Compe, green. Front; Haro Thunderbolt, green. (NOS) |
| WHEELS | Skyway Tuff wheels II mags with alloy hubs. Black. |
| FREEWHEEL | SunTour 17T. Chrome/black. |
| TIRES | Snakebellys skinwall repops. 1.75¨ front and rear. Green. (NEW) |
| DECALS | Haro Freestyler from Vert-Ego. |

One comment