Yamaha BYZ 501. 1982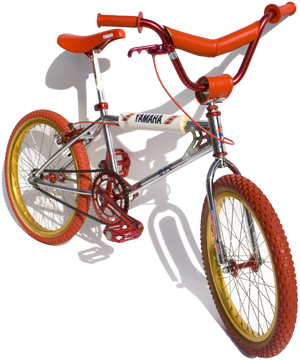 Before I got my first BMX bike in 1983, the kids in the neighborhood talked about a BMX bike called "Yamaha BYZ 501" and they said it was the best BMX in the whole world. It cost a fortune even back then so no one in the neighborhood could afford to buy it. My best friend Jörgen got the cheaper version "Yamaha BYZ 301" and I was very jealous of him. My dream was to own a "501", but it never happened…
…until almost 30 years later when I got in contact with Hedda and Berry in Malmö. They had just bought an old bike shop who used to be a distributor for Yamaha bikes in the 80´s. They had many NOS (new old stock) parts for the Yamaha BMX bikes, but no frames. I really wanted to get an Yamaha, but it is almost impossible to find a Yamaha frame. But only a couple of weeks later, I found a complete Yamaha BYZ 501 bike at the French Ebay. The parts was in bad shape, but the frame looked good. It was not cheap, but I bought it anyway. Then I bought most of the NOS parts from Hedda & Berry.
The Shimano DX cranks, sprocket and seat post has been refurbished. The cranks and sprocket was re-anodized in red. The decals for the frame, seat and cranks are reproductions made by me.
I couldn't find any information about what tires to use for the 501, but I remembered my friend Jörgen got Michelin tires on his Yamaha BYZ 301 back in the days. I found a NOS red Michelin skinwall tire in 2.125¨ to put in front and a red Knarler Knobby skinwall in 1.75¨ for the rear.
Yamaha BMX bikes was made by Motobecane in France.
A big thanks to Hedda & Berry for selling the Yamaha parts to me!


| | |
| --- | --- |
| FRAME | 1982 Yamaha BYZ 501. Made by Tange. Chrome. |
| FORK | Tange TRX. Chrome. (NOS) |
| STEM | SR MX-420. Silver/red. (NOS) |
| HANDLEBAR | WIN aluminum V-bar. Red anodized. (NOS) |
| HEADSET | Hatta MX-2. 1¨ threaded. Pearl cherry red. |
| GRIPS | Yamaha/Motobecane. Red. (NOS) |
| CRANKS | Shimano DX 3-piece. Variable lenght. Red anodized. Custom decals. |
| CHAINRING | Shimano DX 44T. Red anodized. |
| SPIDER | Shimano DX. Red anodized. |
| CHAINRING BOLTS | Shimano. Chrome |
| PEDALS | Shimano DX 1/2¨. Red anodized. (NOS) |
| CHAIN | Sedis 1/8¨. Black. (NOS) |
| SEAT | Selle Italia. Red with white Yamaha decals. (NOS) |
| SEAT POST | Shimano DX 22.2mm. Polished with red decals. |
| SEAT POST CLAMP | SR Japan. Red anodized. (NOS) |
| REAR BRAKE | Lee Chi MX-1000 with Weinmann semi automatic adjuster. Red. |
| BRAKE LEVER | Chang Star Tech-2. Red anodized. (NOS) |
| BRAKE CABLE | Red. (NOS) |
| RIMS | Weinmann 36H. Gold anodized. (NOS) |
| HUBS | Maillard Helicomatic. Red anodized. (NOS) |
| SPOKES/NIPPLES | Chrome 194mm spokes. Chrome brass nipples (NOS). |
| FREEWHEEL | Maillard Helicomatic 16T. Chrome/black. (NOS) |
| FRONT TIRE | Michelin skinwall 2.125¨. Red. (NOS) |
| REAR TIRE | Knarler Knobby skinwall 1.75¨. Red. |
| DECALS | Homemade decals for the frame. |
| PADS | Yamaha BYZ vinyl pad set. White/red. (NOS) |

11 comments