ECM Bulldozer. 1991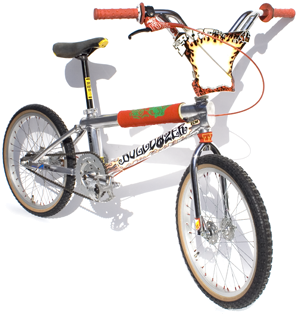 This frame was custom-made for me by ECM (Erik's Cykel Mekano) in 1991. It was designed by me with some help from Erik. The geometry is the same as the S&M Holmes frame. The front triangle is made of beefy aluminum tubings. The bolt-on rear triangle comes from an Auburn, and it´s made of aluminum. The frame got alot of attention at international races and dirt-contests.
The bike was sold in mid 90´s to Ellus in Källvesta (with other parts compared from what I had). Just some days after he bought it, the bike got stolen when we did some street-riding in downtown Stockholm. Many years later, I got the frame back from Patrik "Döskallen" who had found it.
I have tried to build it up the way I had it back in the days. The decals for the frame is made entirely by hand (exactly like the original decals). The fork and cranks is bought from "Karlsson" (he was one of my old riding buddies. Ex member of "Dirt-busters" and TL-design team).
Some of the parts are my old ones that I've saved in my dad's basement. My old parts have been refurbished and is marked by *** at the list below.
Special thanks goes out to Patrik "Döskallen" Eklund for finding the frame, Timo "2-Fresh" for trading the rare handlebar to me, and to Erik Nordin who made the frame for me!


| | |
| --- | --- |
| FRAME | 1991 ECM Bulldozer in aluminum. Auburn aluminum rear triangle. Polished. *** |
| FORK | S&M 1¨ threaded. Chrome. |
| STEM | Hardcore 6-bolts top-loaded. Polished. *** |
| HANDLEBAR | Peregrine Q-bar-II. Chrome. (NOS) |
| HEADSET | GT Epoch. 1¨ threaded. White. *** |
| HEADSET DUST COVER | TL-design. Red. *** |
| GRIPS | EZ-Jive. Red. (NOS) |
| CRANKS | Anlun 3-piece 175mm. Chrome. |
| BOTTOM BRACKET | Anlun sealed bearings. Black cups. |
| CHAINRING | Pro-Neck 45T. Silver. *** |
| SPIDER | Anlun power disc. Silver. |
| CHAINRING BOLTS | Chrome. *** |
| PEDALS | Primo BearTrap 9/16¨ with Razorback cages. Loose ball bearings. Silver. *** |
| CHAIN | KMC 1/8¨. |
| SEAT | Selle Italia Turbo matic 2. Leather. Black/yellow. *** |
| SEAT POST | Unknown "quick adjust" 25.4mm. Black. (NOS) |
| SEAT POST CLAMP | Hardcore Buzz-saw. Polished. *** |
| REAR BRAKE | Sachs drum-brake in the rear hub. (NOS) |
| BRAKE LEVER | Dia-Compe Tech-77. Black/silver. |
| BRAKE CABLE | Generic. Black. (NEW) |
| RIMS | Femco (Araya 7X style) alloy 36H. Silver anodized. |
| FRONT HUB | ACS high flange 36H. Loose ball bearings. Polished. (NOS) |
| REAR HUB | Sachs high flange 36H drum-brake. Sealed bearings. Silver. (NOS) |
| SPOKES/NIPPLES | Chrome spokes. Red alloy nipples. (NEW) |
| FREEWHEEL | SunTour 16T. |
| TIRES | Duro Comp-III skinwall. Rear; 1.75¨. Front; 2.125¨. Black. |
| DECALS | Homemade. |
| TOPTUBE PAD | TL-design. Red. *** |
| NUMBER PLATE | TL-design "kneesaver-style". *** |

4 comments