Yamaha BYZ 401 1982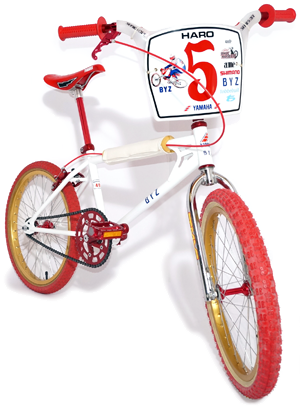 Yamaha BYZ BMX bikes was made by Motobecane in France in the early 80´s. This is the second best model, called ¨BYZ 401¨. It's not 100% correct built up compared to the bike from -82´, but it's very close to the original specifications.
I found the frame in France. The paint was in bad condition so it was stripped and then powder coated by Barspin-Danne. I took the Sakae SR crankset from my old Marin mountainbike from the 80´s and it's been refurbished, polished and painted in translucent red. The A'me Cam grips are genuine 80´s and not one of the new reproductions. The number plate is a copy of Haro Series One plate. I couldn't find the SR pedals in 9/16¨ size, so I changed the 1/2¨ spindles to a pair of 9/16¨ from a new set of Shadow Conspiracy Ravager pedals. The Weinmann MX rear brake have been refurbished and painted, but I was able to keep the original decals. The decals for the frame and seat are made by me.
Some of the NOS (new old stock) genuine Yamaha parts; TMX fork, Yamaha handlebar, Yamaha padset, Weinmann rims, San Marco seat and SR Laprade seat post comes from Barry in Malmö/Sweden who bought the remains from the Yamaha dealer in Sweden from early 80´s for a couple of years ago. The parts are very hard to find, so I'm very grateful to Barry for selling the parts to me!
This is one of my favorites, so I hope you will like it as much as I do! 😉


| | |
| --- | --- |
| FRAME | Yamaha BYZ 401, white (refurbished) |
| FORK | TMX 1" threaded, chrome (NOS) |
| STEM | SR MX-420, silver/red (refurbished) |
| HANDLEBAR | Yamaha V-bar (from BYZ 201), red lacquered (NOS) |
| HEADSET | YST 1", chrome/red lacquered (NOS) |
| GRIPS | A'ME Cam (genuine early 80's), red (NOS) |
| CRANKS | Sakae SR 175mm 3-piece aluminum, red lacquered (refurbished) |
| BB | Conversion US BB 3-delat, silver (NOS) |
| CHAINRING | SR 44T, red lacquered (refurbished) |
| CHAINRING BOLTS | Sugino (stamped), chrome (NOS) |
| PEDALS | SR MP-464 Custom M, 9/16", red (NOS) |
| CHAIN | Sedis 1/8", black (NOS) |
| SEAT | San Marco Concor Supercorsa, red. Yamaha-decals (NOS) |
| SEAT POST | SR Laprade aluminum 7/8", red/silver (NOS) |
| SEAT POST CLAMP | SR Japan, red lacquered (refurbished) |
| BRAKE | Weinmann MX, red lacquered (refurbished/NOS parts) |
| BRAKEPADS | Weinmann, black (NOS) |
| BRAKE LEVER | Chang Star – Tech-2 copy, red (NOS) |
| BRAKE CABLE | Centurion, red (NOS) |
| RIMS | Weinmann 36H, 20 x 1.75", gold (NOS) |
| FRONT HUB | Shimano DX 36H, red (NOS) |
| REAR HUB | Shimano DX 36H cassette 16T, red (NOS) |
| SPOKES | Chrome spokes 14G 187mm. Chrome brass nipples (NOS) |
| FREEWHEEL | Shimano 16T cog (NOS) |
| FRONT TIRE | Kenda 20 x 2.125", red skinwall (NOS) |
| REAR TIRE | Panaracer Knarler Knobby 20 x 1.75" , red skinwall (used) |
| TUBES | Unknown |
| PADSET | Yamaha BYZ, vinyl (NOS) – Stem-pad is missing |
| NUMBER PLATE | Haro "Series One" copy, white (NOS) |
| DECALS | Yamaha BYZ 401 (made by me) |

4 comments