Kuwahara E.T. Original. 1983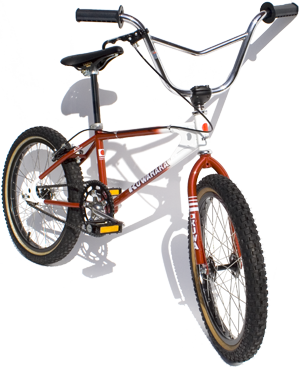 Kuwahara made several models of the E.T. bikes and this one is the top of the line model called "Kuwahara E.T. Original". It's the holy grail for many BMX old school collectors. It took me over a year to collect all the correct parts for the bike. For 2013, I have updated the bike to be more perfect.
I found the Tange HotHeart frame (same as Kuwahara E.T. Original, except for the heart-shaped hole in front gusset) in France and the heart-shaped hole have been filed to correct round shape. I got the Ukai Speedline rims from an 1986 GT Pro Series and they have been powdercoated in semi gloss black and the silver stripes was filled in by hand with a silver-pen. The hubs was also powdercoated in semi gloss black. I found the IRC tires at the French Ebay, but unfortunately both of them are in the size of 2.125¨ (instead of a staggered set of 2.125¨ in front and 1.75¨ in rear).
The NOS (new old stock) Elina seat (in all black without the lightning bolts) was the most difficult part to find.
Updated list for 2013:
• New frame – Tange HotHeart 1983, refurbished and then powder coated in white by "Barspin-Danne", then painted with 2-components car paint in "pearl cherry red" and several layers of clear coat. High quality repop decals from Frog in France.
• Mint Hatta bottom bracket, looseball bearings, silver/chrome.
• NOS Sugino chain ring bolts, chrome.
• Mint Hatta headset, chrome.
• Mint Sugino 178mm cranks (stamped 1982), chrome.
• Mint Dia-Compe brake pads, black.
• NOS genuine bolts for the Sugino stem, black.
A big thanks to Barspin-Danne for the powdercoating!


| | |
| --- | --- |
| FRAME | 1983 Tange HotHeart. Pearl cherry red/white. |
| FORK | Tange Champion 1¨ threaded. Pearl cherry red. |
| STEM | Sugino. Black. |
| HANDLEBAR | WIN V-bar. Chrome. (NOS) |
| HEADSET | Hatta 1¨ threaded. Chrome. |
| GRIPS | O.G.K. Black (NOS) |
| CRANKS | Sugino 1-piece 178mm. Chrome. |
| BOTTOM BRACKET | Hatta looseball bearings. Chrome. |
| CHAINRING | Sugino 44T. Black anodized. (NOS) |
| SPIDER | Sugino. Chrome. (NOS) |
| CHAINRING BOLTS | Sugino (stamped). Chrome. (NOS) |
| PEDALS | KKT AMX 1/2¨. Black. (NOS) |
| CHAIN | D.I.D. 1/8¨. Black. (NOS) |
| SEAT | Elina MX. Black. (NOS) |
| SEAT POST | Aluminum fluted 22.2mm. Black anodized. (NOS) |
| SEAT POST CLAMP | SunTour Arrow. Silver. |
| REAR BRAKE | Dia-Compe 890. Black. |
| BRAKE PADS | Dia-Compe. Black. |
| BRAKE LEVER | Dia-Compe Tech-2. Black. (NOS) |
| BRAKE CABLE | Dia-Compe. Black. (NOS) |
| RIMS | Ukai Speedline 36H. Black. |
| HUBS | High flange. Front; SunTour, rear; SR. 36H. Loose ball bearings. Black. |
| SPOKES/NIPPLES | Chrome 194mm spokes. Chrome brass nipples. (NOS) |
| FREEWHEEL | SunTour 16T. Chrome/black. |
| TIRES | IRC BMX Racer skinwall. 2.125¨ front and rear. Black. (Front is NOS) |
| DECALS | Kuwahara E.T. repop decals from France. |

12 comments