Haro Group1 RS3. 1986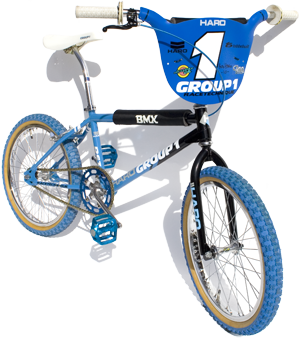 I got the frame (and also the stem and chainring) from Patrik "Döskallen" in the summer of 2009 and I began to restore the bike a couple of months later.
In the late eighties, I won a black and blue Haro Group1 RS3 in a lottery at Haro Cup in Älvsjö (which I later sold to a friend in Salem). That's why I have painted the bike in the same color scheme.
It was impossible to find the correct decals for the frame/fork, so I made them myself in Illustrator from looking at blurry pictures from the world wide web. Göte helped me to cut the decals with his plotter.
The seat post clamp, brake lever and front rim are old parts of mine. I got the tires from Wåhlander, the hubs and rear rim from Karlsson and the fork from Blocket.se (it used to belong to Ekwall). The seat post, brake cable, headset and padset is bought at a bike store in Solna. The NOS (new old stock) Haro number plate is bought from Germany and it´s signed by Mr Bob Haro himself.


| | |
| --- | --- |
| FRAME | 1986 Haro Group 1 RS3. Blue/black. |
| FORK | Haro Group 1. 1¨ threaded. Black. |
| STEM | Haro Group 1 (Anlun). Silver/blue. |
| HANDLEBAR | Haro Kneesaver "race". Chrome. |
| HEADSET | YST 1¨ threaded. Chrome. (NOS) |
| GRIPS | A'me Tri, White. Flite donuts. (NEW) |
| CRANKS | Sugino 1-piece 175mm. Chrome. |
| BOTTOM BRACKET BOOT | Odi Mushroom. Blue. (NOS) |
| CHAINRING | Sugino. 43T. Blue anodized. |
| SPIDER | Sugino. Chrome. |
| CHAINRING BOLTS | Chrome. 2 of them is stamped GT. |
| PEDALS | Victor VP-500. 1/2¨. Blue anodized. (NOS) |
| CHAIN | KMC Z 1/8¨. Gold. (NOS) |
| SEAT | Viscount Dominator/Group 1. White. |
| SEAT POST | MT-Racing layback fluted 22.8mm. Haro decal. Chrome. (NOS) |
| SEAT POST CLAMP | Odyssey. Polished. |
| REAR BRAKE | Dia-Compe 901. Silver. (NOS) |
| BRAKE PADS | Skyway. Light blue. (NOS) |
| BRAKE LEVER | Odyssey. Black. (NOS) |
| BRAKE CABLE | Translucent blue. (NOS) |
| RIMS | Ukai 36H. Chrome. |
| HUBS | Suzue low flange 36H. Sealed bearings. Polished. |
| SPOKES/NIPPLES | Chrome spokes. Chrome brass nipples. |
| FREEWHEEL | SunTour 16T. Black. |
| TIRES | Swallow gumwall. 2.125¨ front and rear. Blue. |
| DECALS | Homemade die-cut decals. |
| PADS | Generic "BMX" pads. Black. (NOS) |
| NUMBER PLATE | Haro Color plate with genuine Bob Haro autograph. Blue. (NOS) |

One comment