Kuwahara E.T. Original "gold" 1983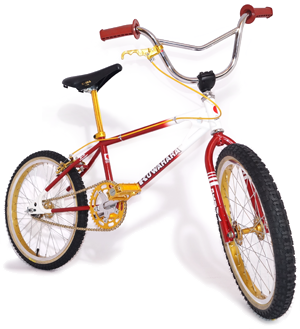 The E.T. bikes was available in many different styles. This one is the "golden edition" Kuwahara E.T. Original.
It started with a "DBS Laser T1" bike that I found at Blocket.se (swedish version of Craigs List) close to Mjölby in Östergötland. Thanks Patrik for selling the bike to me! DBS is a bike company from Norway and this model used the same frame from Tange like Kuwahara did for the E.T. bikes. The only difference is the slightly smaller bottom bracket size, so I had to custom made the Tange BB bearings/cups to fit.
The frame and fork was sandblasted and powdercoated white, then it was painted with 2-components car paint in "Pearl cherry red" and several layers of clear coat. Repop decals was applied.
The sides of the Sumo gold rims have been refurbished and then polished. The Sugino "Crown" stem is my old stem from back in the days, it's been refurbished and painted in flat black. I have got the SR high flange hubs from the Swedish BMX legend Uffe Meijer. The cranks is unstamped, but in correct 178mm size and shape for the E.T. bike (maybe unstamped Sugino?). The NOS (new old stock) Iscaselle seat is very similar to the correct Elina seat (I have added Elina decals in gold to make it look better).
A big thanks to Barspin-Danne for the powdercoating!


| | |
| --- | --- |
| FRAME | Tange DBS Laser 1983, pearl cheery red/white (refurbished) |
| FORK | Tange TX-1200 1¨ threaded, pearl cherry red (refurbished) |
| STEM | Sugino "crown", black (refurbished) |
| HANDLEBAR | Tange V-bar, chrome, WIN decal (used) |
| HEADSET | Tange 1" threaded, chrome (used) |
| GRIPS | O.G.K. red (NOS) |
| CRANKS | Sugino? (unstamped) 178mm, chrome (used) |
| BOTTOM BRACKET | Tange 24T looseball bearings, silver (used) |
| CHAINRING | Sugino 43T, gold anodized (NOS) |
| SPIDER | Sugino, chrome (NOS) |
| CHAINRING BOLTS | Sugino (stamped), chrome (NOS) |
| PEDALS | KKT AMX 1/2¨, gold (NOS) |
| CHAIN | KMC 1/8¨, gold (NOS) |
| SEAT | Iscaselle, black. Elina decals (NOS) |
| SEAT POST | Aluminum fluted 22.2mm, gold anodized (NOS) |
| SEAT POST CLAMP | SunTour copy, gold (NOS) |
| REAR BRAKE | Dia-Compe 890, gold (NOS) |
| BRAKE PADS | Dia-Compe, black (NOS) |
| BRAKE LEVER | Dia-Compe Tech-2, gold (NOS) |
| BRAKE CABLE | Dia-Compe, yellow. Stamped 1982 (NOS) |
| CABLE CLIPS | Dia-Compe, stamped, chrome (NOS) |
| RIMS | Sumo 7X shineside, 36H, gold (refurbished sides) |
| HUBS | SR high flange, 36H, gold (NOS) |
| SPOKES/NIPPLES | Asahi 194mm chrome spokes. Long chrome brass nipples (NOS) |
| FREEWHEEL | SunTour 16T, chrome/black (used) |
| FRONT TIRE | Tioga Comp III yellow label (repro) 20 x 2.125" (NEW) |
| REAR TIRE | Tioga Comp III yellow label (repro) 20 x 1.75" (NEW) |
| DECALS | Kuwahara E.T. repop decals from Australia. |

2 comments