Kuwahara Nova 1983 – Blue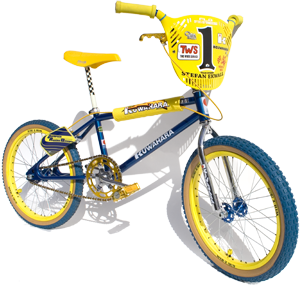 I found this Kuwahara at Blocket.se (the swedish version of Craigs List) in the spring of 2010.
The woman Tina, that I bought the bike from, had bought it in early 90´s to her kids from Stefan Ekwall in Märsta. For those who don't know who Stefan is, I can tell you that he's the grandfather of BMX in Sweden. Stefan was a role model for me in the 80´s and he has been a huge inspiration for me. Stefan used to run a BMX shop in Märsta called "TWS" (Two Wheel Service). This bike/project is a tribute to Stefan for all of his hard work for the BMX scene.
When I bought the bike, it had different parts and the frame was chrome plated. Blue is my favourite color of the Nova's, that's why I have painted it blue. I took the Akisu aero fork (mint condition) from another bike. The seat post is my old seat post from when I was sponsored by "Kuwahara Sweden" in the 80´s. Except for the fork, seat post, SR stem, and the yellow ACS Z-rims, all the other parts is NOS (new old stock).
The brake guard (California Racing Design) was bought from legendary Tim March in England.
Many thanks to Stefan Ekwall and his family!


| | |
| --- | --- |
| FRAME | 1983 Kuwahara Nova. Blue metallic paint. |
| FORK | Akisu Aero 1¨ threaded. Chrome. |
| STEM | SR MS-422. Polished with blue top. |
| HANDLEBAR | Redline V-bar. Blue lacquer. (NOS) |
| HEADSET | Tange MX3. 1¨ threaded. Chrome with black border. (NOS) |
| HEAD LOCK | Tange head lock. Gold anodized. (NOS) |
| GRIPS | O.G.K. foam. Yellow. (NOS) |
| CRANKS | Takagi 1-piece 180mm. Chrome. |
| CHAINRING | Sugino. 44T. Gold anodized with machined teeth. (NOS) |
| SPIDER | Sugino. Chrome. |
| CHAINRING BOLTS | Sugino (stamped). Chrome |
| PEDALS | KKT AMX 1/2¨. Gold anodized. (NOS) |
| CHAIN | Izumi 1/8¨. Gold/silver. (NOS) |
| SEAT | Elina UL. Yellow. (NOS) |
| SEAT POST | Elina UL. fiberglass. |
| SEAT POST CLAMP | SunTour Arrow. Silver. (NOS) |
| REAR BRAKE | Dia-Compe 890 (stamped 1983). Gold anodized. (NOS) |
| BRAKE LEVER | Dia-Compe Tech 2 MX (stamped 1983). Gold anodized. (NOS) |
| BRAKE CABLE | Dia-Compe (stamped 1983). Yellow. (NOS) |
| BRAKE GUARD | California Racing Designs (Clint Miller). Yellow/blue. (NOS) |
| RIMS | ACS Z-rims 36H. Yellow. Homemade repop die-cut decals. |
| HUBS | Suzue high flange 36H. Loose ball bearings. Blue anodized. (NOS) |
| SPOKES/NIPPLES | Chrome spokes. Black alloy nipples (NOS). |
| FREEWHEEL | Shimano 16T. Chrome/black. |
| TIRES | Vredestein Cross BMX VR7 gumwall. 2.125¨ front and 1.75¨ rear. Blue. (NOS) |
| DECALS | Kuwahara repop decals from Asia. Homemade "Nova" decals. |
| PADS | Kuwahara repops. Yellow. |
| NUMBER PLATE | Cycle Pro "Flo Series". Yellow. (NOS) |

3 comments