Kuwahara Nova 1983 – Black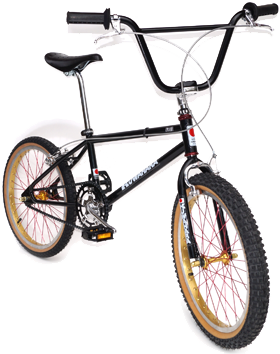 I found this Kuwahara Nova at Blocket.se (the swedish version of Craigs List) in the summer of 2013, in Solna outside of Stockholm from a guy who had got it since it was brand new in 1983. It was bought at TWS (Two Wheel Service) BMX shop in Märsta.
It was blue when I bought it, but since I already have a blue Nova, I decided to go for black instead. It's been powder coated in black by Jesper R. Thanks mate!
The seat post comes from an Kuwahara LaserLite. The Dia-Compe 890 brakes and Tech-3 brake levers was anodized in gold, but faded, so I had them polished instead.
Parts marked with *** is original from when the bike was new.


| | |
| --- | --- |
| FRAME | 1983 Kuwahara Nova, black (refurbished) *** |
| FORK | Tange, black (refurbished) *** |
| STEM | Win, polished/black (refurbished) *** |
| HANDLEBAR | Kuwahara, black (refurbished) *** |
| HEADSET | Hatta MX-II, candy red (refurbished) *** |
| HEAD LOCK | SunTour, black/silver (used) |
| GRIPS | OGK, black (used) *** |
| CRANKS | Takagi Cr-Mo, 170mm, chrome (used) |
| BOTTOM BRACKET | YST, looseball bearings (NOS) |
| CHAINRING | Takagi steel, 44T, black (refurbished) *** |
| SPIDER | Takagi/Tioga, chrome (NOS) |
| CHAINRING BOLTS | Takagi, chrome (used) |
| PEDALS | KKT SMX 1/2", black (refurbished) |
| CHAIN | Red Star 1/8", black (NOS) |
| SEAT | Concor Aero (Elina Turbo copy), black (NOS) |
| SEAT POST | Kuwahara LaserPost, chrome (used) |
| SEAT POST CLAMP | SunTour broken arrow, black/silver (used) |
| BRAKES | Dia Compe 890, polished (refurbished) *** |
| BRAKE LEVERS | Dia Compe Tech-3, polished (refurbished) *** |
| BRAKE PADS | Dia Compe, gum (NOS + used) |
| BRAKE CABLES | Dia-Compe, clear (NOS) |
| RIMS | Araya 7X shineside, 36H, gold (refurbished) *** |
| HUBS | SunTour low flange, 36H, gold (used) *** |
| SPOKES | CyclePro 184mm, red (NOS) |
| NIPPLES | CyclePro brass 14g, chrome (NOS) |
| FREEWHEEL | SunTour 16T, black (used) |
| FRONT TIRE | IRC BMX Racer 80X, 20×2.125", black skinwall (NOS) |
| REAR TIRE | Duro Comp III, 20×1.75", black skinwall (new) |
| DECALS | Kuwahara repop decals. Homemade "Nova" decals. |
| PADS | Kuwahara, black (used) |