Haro Team Sport. 1987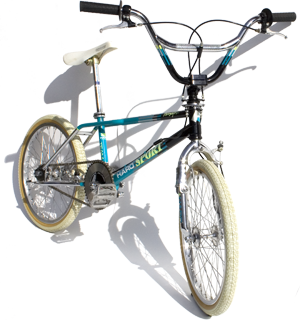 In the late eighties, it was a big dream for me to get a 1987 Haro Team Sport, but I couldn't afford to buy it back then.
When I was racing for Älvsjö BMX Klubb in the 80´s, one of the other families (Wåhlander) which me and my dad were good friends with, bought an 1987 Haro Team Sport by mistake. The brothers David and Martin Wåhlander was only racing BMX and not doing freestyle, so the bike got stored in their basement.
In late 2009, I called Stefan and asked if they still got the Haro and if they would like to sell it. They liked the bike so much so they didn't want to sell it at first, but they could make an exception only for me. It was an great honor for me to be able to buy the bike from the Wåhlander family.
Finally, I´d got a turquoise 1987 Haro Team Sport in perfect condition. Every part on the bike is original. It must be the best preserved Team Sport in the whole world?
As a sign to show my gratitude to Wåhlander's for selling the bike to me, I draw a painting of the Haro and gave it to them. You can see a scan of the painting in the pictures below.


| | |
| --- | --- |
| FRAME | 1987 Haro Team Sport. Chrome/turquoise/black. |
| FORK | Haro 1¨ threaded with foldable pegs. Chrome. |
| STEM | Haro Group 1 with hollow bolt. Black. |
| HANDLEBAR | Haro 2-piece. Chrome/black. |
| HEADSET | Black 1¨ threaded. |
| GRIPS | A'me Tri copys. Black. |
| CRANKS | Peregrine 3-piece 180mm. Sealed bearings. Chrome. |
| SPROCKET | Peregrine Compact Disc 44T. Black/silver. |
| PEDALS | Victor VP-500 9/16¨. Loose ball bearings. Silver. |
| CHAIN | KMC. Chrome. |
| SEAT | Viscount Dominator. White. |
| SEAT POST | Haro straight fluted 22.2mm. Chrome. |
| SEAT POST CLAMP | Peregrine. Silver with black border. |
| REAR BRAKE | Dia-Compe AD-990 U-brake. Silver. |
| FRONT BRAKE | Dia-Compe Nippon. Silver. |
| BRAKE PADS | Dia-Compe. White. |
| BRAKE LEVERS | Dia-Compe 182 with locking buttons. Black/silver. |
| GYRO | Odyssey Gyro. Black/chrome. |
| BRAKE CABLES | Black. |
| RIMS | Araya 7X 48H. Silver. |
| HUBS | Suzue high flange 48H. Sealed tech bearings. Silver. |
| SPOKES/NIPPLES | Chrome spokes. Chrome brass nipples. |
| FREEWHEEL | SunTour 16T. Chrome/black. |
| TIRES | Peregrine Special H.P. skinwall. 1.75¨ front and rear. White. |

One comment