Centurion Spider-1 1982 (#2)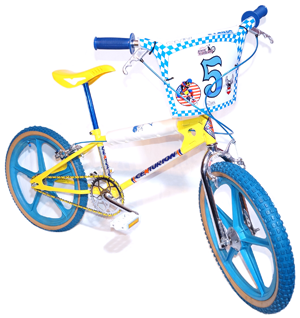 In the spring of 2012, I was lucky to find the remains from an old BMX shop in Gothenburg that closed in mid 80´s. Thanks to Christian (the BMX shop owner´s former stepson) for selling the parts to me! I was told that the BMX shop imported almost all their stuff from Germany and many parts was labelled as Centurion "Star Line" or "Pro-Line" parts (high quality parts from Japan, such as Tange, Sugino, SR, MKS etc).
There was two Centurion Spider-1 frame/fork/headset kits among all the parts. I have build them up with two different color schemes; this one in yellow/blue/white, and the other one in yellow/red/black. For this one, the original yellow Tange fork was scratched so I took one of the chrome Centurion forks instead. All parts on this bike is NOS (new old stock), except for the new tubes.
Centurion is an old bike company, and in early 80´s they were into BMX for a short while. I haven´t found much information about Centurion BMX, but I think they have something to do with Diamond Back in some way. Otherwise, Centurion is best known for their road bikes.
There´s a tiny bit of Sweden in this bike; the sealed bearings in the Acorn mags are made by Swedish SKF.
The last two pictures is borrowed from a member at BMXmuseum.com (no hard feelings?) and it shows the Centurion Spider from an old catalogue from Germany.
Again, a big thanks to Christian for selling the parts to me! 🙂


| | |
| --- | --- |
| FRAME | Centurion Spider-1, yellow (NOS) |
| FORK | Centurion 1" threaded, chrome (NOS) |
| STEM | Hsin Lung – (SR-copy), silver/blue (NOS) |
| HANDLEBAR | 2-piece, 8", chrome (NOS) |
| HEADSET | Original 1", chrome (NOS) |
| GRIPS | Centurion Mushrooms, blue (NOS) |
| CRANKS | Sugino-copy 165mm 1-piece, chrome (NOS) |
| BB | US BB, chrome (NOS) |
| CHAINWHEEL | Sugino Snowflake 40t, chrome (NOS) |
| PEDALS | Victor Rat-trap 1/2", white (NOS) |
| CHAIN | Yaban, yellow/chrome (NOS) |
| SEAT | Iscaselle Aeroyal, yellow (NOS) |
| SEAT POST | Landar fluted 7/8" aluminum, blue (NOS) |
| SEAT POST CLAMP | Steel, yellow (NOS) |
| BRAKES | Formos MX-1000, silver (NOS) |
| BRAKEPADS | Skyway copys, blue (NOS) |
| BRAKE LEVERS | Formos Tech-2 copy, silver (NOS) |
| BRAKE CABLES | Translucent blue (NOS) |
| WHEELS | Acorn mag, freewheel, blue (NOS) |
| FREEWHEEL | 16T, black/brown (NOS) |
| FRONT TIRE | Vredestein 20 x 2.125¨, blue (NOS) |
| REAR TIRE | Vredestein 20 x 1.75¨, blue (NOS) |
| TUBES | Biltema, sludge (NEW) |
| PADSET | Centurion Star-Line BMX racing, white/blue (NOS) |
| NUMBER PLATE | Centurion "D-1" checkered plate, blue/white (NOS) |
| DECALS | Original |

One comment