Jaggazaki 24″ cruiser. 1987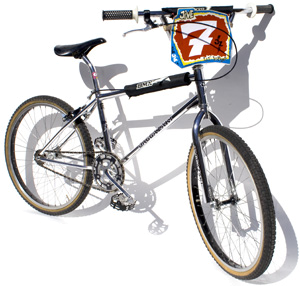 Me and my dad bought this bike together in the late 80´s from the "Karlssons" in Älvsjö.
A group of parents got bored of just standing and watch the kids racing, so they started a 40+ cruiser class. I used this Jaggazaki in some races, but for most races in the cruiser class I used to borrow a GT cruiser from the Almgard family instead.
The bike was stored in my dad's garage from early 90´s until now (spring 2011). It have been refurbished and some parts have been replaced.
The original decals was gone, so I have made new die-cut decals. It was hard to make the decals exactly like the original decals because I only had some blurry pictures to look at when I made the new decals in Illustrator.
The bike has been very carefully used and it still got the original tires from when it was brand new. Original parts is marked by *** in the listing below.
I think Jaggazaki is a Swedish labeled brand of imported bikes from Taiwan.
I would like to thank Andy for letting me borrow his plotter to make the decals.


| | |
| --- | --- |
| FRAME | 1987 Jaggazaki 24¨ cruiser. Chrome. *** |
| FORK | Jaggazaki 24¨. 1¨ threaded. Chrome. *** |
| STEM | Anlun. Black. |
| HANDLEBAR | Jaggazaki "CW-type" cruiser bar. Chrome. *** |
| HEADSET | 1¨ threaded. Chrome. *** |
| GRIPS | Day Luen (Oakley F1 copys). Black/white. *** |
| CRANKS | 1-piece 175mm. Chrome. (NOS) |
| BOTTOM BRACKET | YST. Chrome. (NOS) |
| BOTTOM BRACKET "BOOT" | Sharp. Red. (NOS) |
| CHAINRING | Anlun Duraluminum 44T. Black anodized. |
| SPIDER | Minerva power disc. Polished. |
| CHAINRING BOLTS | Chrome. |
| PEDALS | Wellgo BearTrap 1/2¨. Black/silver. |
| CHAIN | 1/8¨. Black/nickel. *** |
| SEAT | Aero style. Black. *** |
| SEAT POST | Unknown layback 25.4mm. Chrome. *** |
| SEAT POST CLAMP | Chrome. *** |
| REAR BRAKE | Odyssey PitBull. Black. |
| BRAKE PADS | Skyway. Light blue. (NOS) |
| BRAKE LEVER | Lee Chi. Black/silver. *** |
| BRAKE CABLE | Generic. Black. (NEW) |
| RIMS | Unknown 24¨ alloy 36H. Black with shiny sides. *** |
| FRONT HUB | Unknown (stamped "S"). 36H. Loose ball bearings. Black. *** |
| REAR HUB | KJ 36H. Loose ball bearings. Silver. |
| SPOKES/NIPPLES | Chrome spokes. Chrome brass nipples. *** |
| FREEWHEEL | Dicta 18T. *** |
| TIRES | Cheng Chin Comp-III 24¨ gumwall 1.75¨. Black. *** |
| DECALS | Homemade die-cut. Black/white |
| PADS | Jaggazaki "BMX". Black. *** |
| NUMBER PLATE | Jive Lil' loFter. White/yellow/blue/red. *** |