Kuwahara Magician EX 1987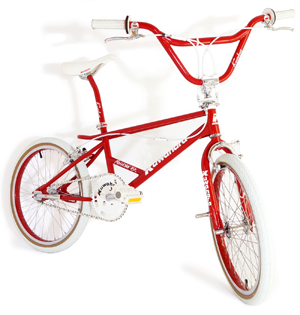 Kuwahara Magician EX from 1987 was a cheaper model freestyle bike with a trimoly frame. It was available in four color combos; red/white, grey/pink, yellow/black and blue/white. This bike had the grey/pink color scheme when I found it, but I like the red/white better, so I changed it

Swedish pro rider Andreas "Andy" Lindqvist used to ride one of these (in grey/pink) back in the days when he was sponsored by Kuwa Sweden. I was also sponsored by them in BMX-racing.
I found this Kuwahara on Blocket.se (Swedish version of Craigs list) here in Stockholm Sweden. It was in badly condition, but almost all the original parts was still there. The original rims was a bit rusty, but luckily I had a pair of exactly the same rims in the basement (NOS – new old stock) which was painted in the same metallic red as the frame. The original handlebar was missing, but I had a similar bar which have been refurbished and painted in red. I have got the Anlun stem from the Wåhlander family. The seat was found in an old bike shop here in Stockholm. I couldn't find the correct Lee Chi brake levers in silver, so I bought a pair in pink instead and removed the paint and polished them. I have made the decals myself. Thanks to Andy for letting me borrow his plotter machine.
This is one of my most beautiful bikes in my opinion, even though it's not a top of the line bike.



| | |
| --- | --- |
| FRAME | 1987 Kuwahara Magician EX, red (refurbished) |
| FORK | Kuwahara Magician EX 1" threaded, red (refurbished) |
| STEM | Anlun, Potts mod, polished/white (refurbished) |
| HANDLEBAR | Unknown (similar to original bar), red (refurbished) |
| HEADSET | Original 1¨ threaded, chrome |
| GRIPS | A'me Tri, white (NOS) |
| DONUTS | Lizard skins, red (new) |
| CRANKS | Noname. 175mm, chrome (NOS) |
| SPROCKET | Kuwahara, steel 44T, white (refurbished) |
| PEDALS | Victor Grafight X copys plastic 1/2", white (NOS) |
| CHAIN | Yaban 1/8¨ white/chrome (NOS) |
| SEAT | Viscount/Kuwahara copy, white (NOS) |
| SEAT POST | Kuwahara layback 22.2mm, red (refurbished) |
| SEAT POST CLAMP | Peregrine, polished – red decal (refurbished) |
| REAR BRAKE | Weinmann, silver (NOS) |
| FRONT BRAKE | Lee Chi freestyle, silver (used) |
| BRAKE PADS | Weinmann, black (NOS) |
| BRAKE LEVERS | Lee Chi locking levers, polished (NOS) |
| BRAKE CABLE FRONT | Centurion/Weinmann, white (NOS |
| GYRO | Odyssey gyro 1'st gen 1", white (refurbished) |
| GYRO CABLES | Savage, white. Odyssey decal (new) |
| RIMS | Steel 48H, chrome/red (NOS) |
| HUBS | Joy Tech steel 48H, chrome (used) |
| SPOKES/NIPPLES | Chrome 185mm spokes. Chrome brass nipples (NOS) |
| FREEWHEEL | SunTour 16T (used) |
| TIRES | Cheng Shin, white skinwall 20 x 1.75" (NOS) |
| TUBES | Biltema Sludge (new) |
| DECALS | Die-cut. Made by me |
| PEGS REAR | Belwin Frame standers, chrome (NOS) |
| PEGS FRONT | Kuwahara, chrome (used) |