Hodaka Golden Goose. 1984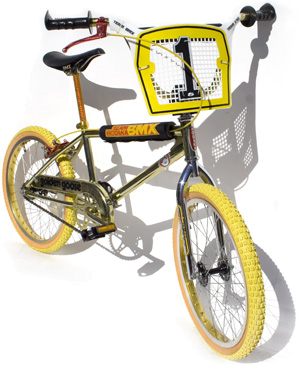 I found this "golden" BMX bike at Blocket.se (swedish version of Craigs List). It's in very good condition. I haven't found any other Hodaka BMX bikes at the internet. Hodaka was a successful motocross manufacturer in the 80´s.
I'm not 100% sure if it's made in 1984, but there was a stickers applied to the bike that said it was tested to be a "safe bike" in 1984. The bike may have been made earlier than 1984.
I took the original Akisu aero fork to my Kuwahara Nova and replaced it with a fork from a MT-Racing UFO instead. The original black Comp3 copy tires was cracked and has been replaced with Vredestein gumwalls instead (made in the Netherlands). The original black seat post clamp (it was badly faded) was changed to a SunTour copy in gold.


| | |
| --- | --- |
| FRAME | 1984 Hodaka Golden Goose. Made by Akisu with oval down tube. Gold lacquered chrome. |
| FORK | MT-Racing UFO. Chrome. |
| STEM | Polygon. Gold anodized. |
| HANDLEBAR | Straight crossbar. Gold lacquered chrome. |
| HEADSET | 1¨ threaded. Chrome. |
| GRIPS | Oakley "cobra-style" copys. Black. |
| CRANKS | 1 piece 165mm. Gold lacquered chrome. |
| SPROCKET | Steel. 44T. Gold lacquered chrome. |
| CHAIN GUARD | "Golden Goose". Steel. Gold lacquered chrome. |
| PEDALS | Unknown. 1/2¨. Black. |
| CHAIN | KMC. |
| SEAT | Kashimax Aero copy. Black. |
| SEAT POST | Fluted aluminum 22.2mm. Gold anodized with red stripes. |
| SEAT POST CLAMP | SunTour copy. Gold anodized. (NOS) |
| REAR BRAKE | Lee Chi MX-1000. Red anodized. |
| BRAKE LEVER | Star. Red anodized. |
| BRAKE CABLE | Yellow. (NOS) |
| RIMS | Sumo 7X 36H. Gold anodized with shiny sides. |
| HUBS | KJ high flange. Black. |
| SPOKES/NIPPLES | Chrome spokes. Chrome brass nipples. |
| FREEWHEEL | Shimano 16T. Black. |
| TIRES | Vredestein Cross BMX VR7 gumwall 1.75¨ front and rear. Yellow. (NOS) |
| PADS | Hodaka. Black. |
| NUMBER PLATE | Accord. (NOS) |

4 comments