Centurion Spider-1 1982 (#1)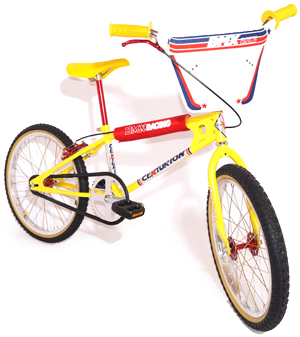 In the spring of 2012, I was lucky to find the remains from an old BMX shop in Gothenburg that closed in mid 80´s. Thanks to Christian (the BMX shop owner´s former stepson) for selling the parts to me! I was told that the BMX shop imported almost all their stuff from Germany and many parts was labelled as Centurion "Star Line" or "Pro-Line" parts (high quality parts from Japan, such as Tange, Sugino, SR, MKS etc).
There was two Centurion Spider-1 frame/fork/headset kits among all the parts. I have build them up with two different color schemes; this one in yellow/red/black, and the other one in yellow/blue/white. Almost all parts on this bike is NOS (new old stock), except for rims, hubs and brake.
Centurion is an old bike company, and in early 80´s they were into BMX for a short while. I haven´t found much information about Centurion BMX, but I think they have something to do with Diamond Back in some way. Otherwise, Centurion is best known for their road bikes.
The last two pictures is borrowed from a member at BMXmuseum.com (no hard feelings?) and it shows the Centurion Spider from an old catalogue from Germany.
The plastic chain protection is my favourite part of the bike. I used to have those chain protections on my bikes in the early 80´s. It made funny noices when you were pedaling.
Again, a big thanks to Christian for selling the parts to me! 🙂


| | |
| --- | --- |
| FRAME | Centurion Spider-1, yellow (NOS) |
| FORK | Tange TX-1200 1" threaded, yellow (NOS) |
| STEM | Hsin Lung – (SR-copy), silver/gold (NOS) |
| HANDLEBAR | Redline? V-bar, chrome (NOS) |
| HEADSET | Original 1", chrome (NOS) |
| GRIPS | Centurion Mushrooms, yellow (NOS) |
| CRANKS | Sugino-copy 178mm 1-piece, chrome (NOS) |
| BB | US BB, chrome (NOS) |
| CHAINWHEEL | Sugino 44t, silver (NOS) |
| PEDALS | Sugino MaxyCross plastic 1/2", black (NOS) |
| CHAIN | KMC Z 1/8¨, brown (NOS) |
| CHAIN PROTECTION | Plastic, black (NOS) |
| SEAT | Centurion Aero "ShotGun copy", yellow (NOS) |
| SEAT POST | SR 7/8" aluminum, red (NOS) |
| SEAT POST CLAMP | Steel, yellow (NOS) |
| BRAKES | Lee Chi MX-1000, red (refurbished) |
| BRAKEPADS | Skyway copys, yellow (NOS) |
| BRAKE LEVERS | Chang Star Pre-bent, red (NOS) |
| BRAKE CABLES | Weinmann, black (NOS) |
| RIMS | Femco 7X 36H, polished (refurbished) |
| FRONT HUB | SR high flange 36H, red (refurbished) |
| REAR HUB | SR low flange 36H, red (refurbished) |
| SPOKES | Asahi 194mm, gold and chrome (NOS) |
| FREEWHEEL | Shimano 16T, chrome (mint-used) |
| FRONT TIRE | Comp III copy 20 x 2.125¨, black skinwall (NOS) |
| REAR TIRE | Comp III copy 20 x 1.75¨, black skinwall (NOS) |
| TUBES | Kenda, with yellow valve caps (NEW) |
| PADSET | Centurion Star-Line BMX racing, red/white (NOS) |
| NUMBER PLATE | Centurion "BMX Racing" padded plate (NOS) |
| DECALS | Original |

One comment